Southern California is world-famous for its beautiful year-round weather and long growing season. La Jolla is a coastal community in San Diego County with a beautiful variety of botanical gems and is a short drive from the most stunning flora that SoCal has to offer. Below are some of the best flower fields to check out near La Jolla.


The Flower Fields (Carlsbad)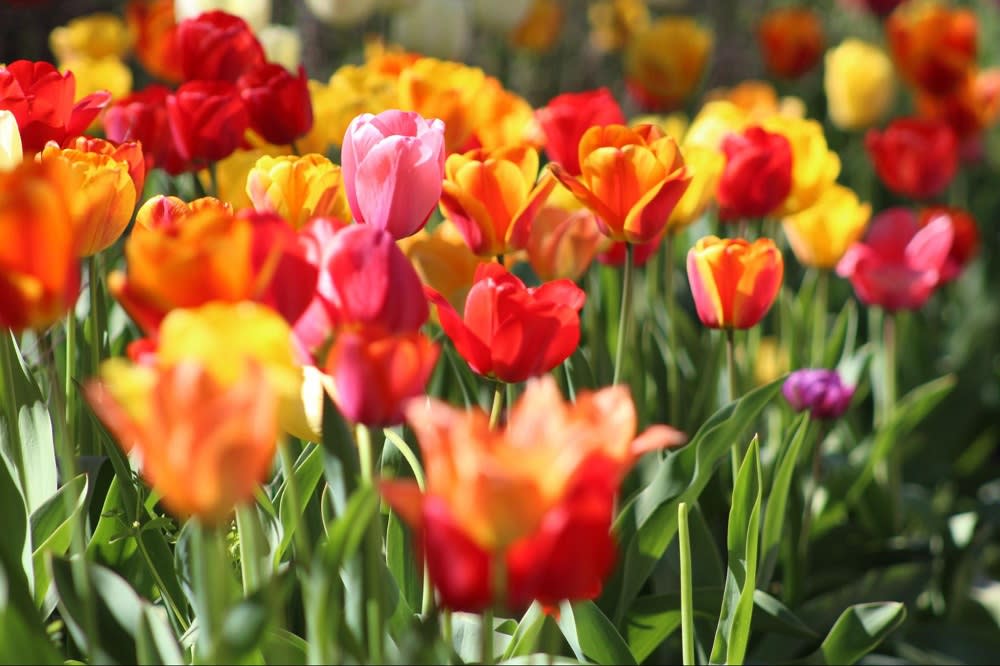 The Flower Fields in Carlsbad bloom during springtime, transforming the rolling hills of North San Diego County into a spectacular display of colorful blooms. This SoCal treasure is the direct result of over 85 years of floral cultivation that began when grower Luther Gage settled in Carlsbad in the early 1920s. Gage planted ranunculus seeds and grew them in the fields adjacent to Frank Frazee's small vegetable farm in South Oceanside. Eventually, Gage made a booming business out of his botany, establishing a branded line of "Luther Gage Giant Tecolote Ranunculus Bulbs."

Nearly 50 acres of Gage's giant Tecolote ranunculus flowers bloom each spring for approximately six to eight weeks (from early March through early May.) The annual blooming of The Flower Fields has become part of the region's local heritage and an indicator that spring has sprung in Southern California.


San Diego Botanic Garden (Encinitas)
The San Diego Botanic Garden is a 37-acre urban sanctuary boasting picturesque gardens that thrive year-round. You can explore four miles of garden trails, flowering trees, swaying palms, restful vistas, and the nation's most extensive collection of bamboo species. The San Diego Botanic Garden aims "to inspire people of all ages to connect with plants and nature." This green oasis is located in Encinitas, known locally as the "Flower Capital of the World."

The San Diego Botanic Garden is a must-visit for any La Jolla botanist. The only difficulty when visiting will be deciding on which section to visit first. Head to the California Gardenscapes area to view beautiful, water-conserving native plants recommended specifically for local gardeners. Check out the Bird and Butterfly Garden to discover flora that attracts butterflies and hummingbirds to your home. The Mediterranean Garden boasts a shady grove of cork oak trees and seasonal blooms of iris, daffodils, and cyclamen. Additionally, you can find water-conscious plants here, including lavender, rosemary, and rock rose.


Balboa Park (San Diego)
Balboa Park features unique and meticulously landscaped gardens throughout its stunning grounds. This Southern California garden features century-old trees that provide shade to the benches below, and it's a perfect spot for relaxing and watching the butterflies. Due to San Diego's warm and sunny climate, towering trees, acres of grass, blooming cacti, lotus booms, roses, water lilies, and more flourish here. Pack a picnic and spend the day strolling through the lush landscaped gardens of Balboa Park.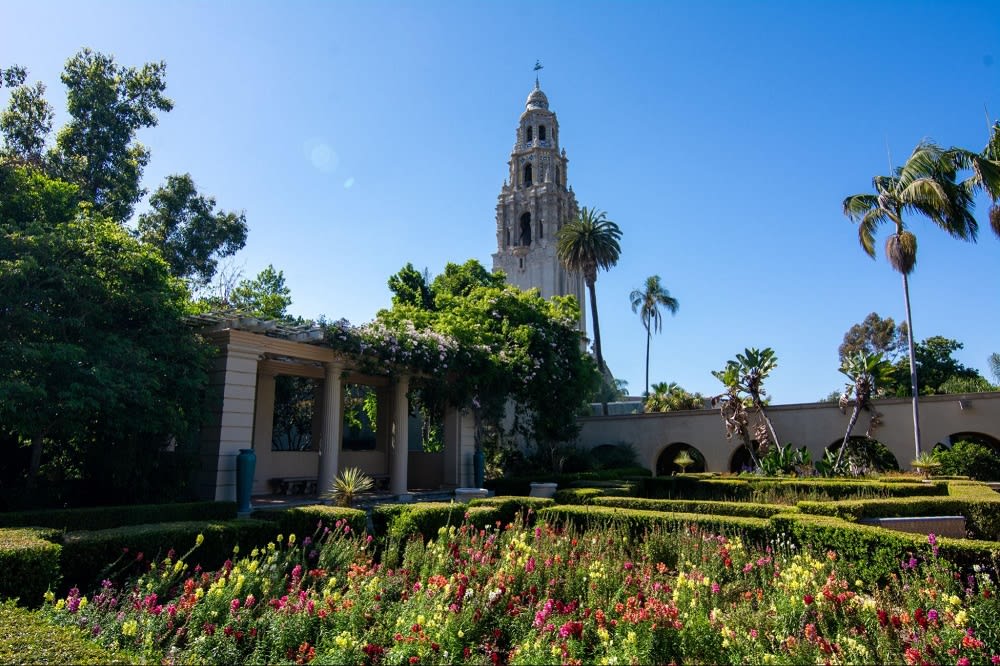 The Inez Grant Parker Memorial Rose Garden (on a 3-acre site within Balboa Park) cultivates approximately 1,600 roses of more than 130 varieties. The garden blooms from March through December and is simply stunning—luring guests with its color, fragrance, and natural beauty. New rose varieties are introduced each year, so check back often to see how the garden has evolved.

The EthnoBotany Children's Peace Garden seeks to educate children of all ages on the role of plants in today's society and the vital role of plants in indigenous cultures. Organic herbs, fruits, and vegetables are grown in this garden that pays homage to George Washington Carver. Gardening classes are available to schools, youth programs, individuals, and families by appointment or on Sundays at 11:30 a.m.

Alcazar Garden's name comes from its design, patterned after the gardens of Alcazar Castle in Seville, Spain. Aside from its ornate fountain and beautiful Moorish tiles and pergola, it features a unique, colorful floral display. This garden is bordered by boxwood hedges and is engulfed by 7,000 plants, creating a vibrant display of color throughout the year.


Anza-Borrego Desert State Park
Anza-Borrego Desert State Park is another floral haven in Southern California. Wildflowers usually start blooming in late February or early March, and countless varieties of cactus bloom at all elevations throughout the year. The park cultivates "specimen" blossoms in colors ranging from yellow, red, and green, and shrub surfaces are covered in tiny flowers of red chuparosa and yellow brittlebush. Bright pink sand verbena is also widely observable during certain years.

In addition to wildflowers, you can spot palm groves, mule deer, kit foxes, golden eagles, and plenty of other critters at the park's sweeping vistas. The landscape and desert plants change depending on the amount of rainfall and weather fluctuations and give you the opportunity to see a different field of flowers nearly every time you visit. Pack up a picnic and make a day trip from La Jolla to roam this gorgeous park.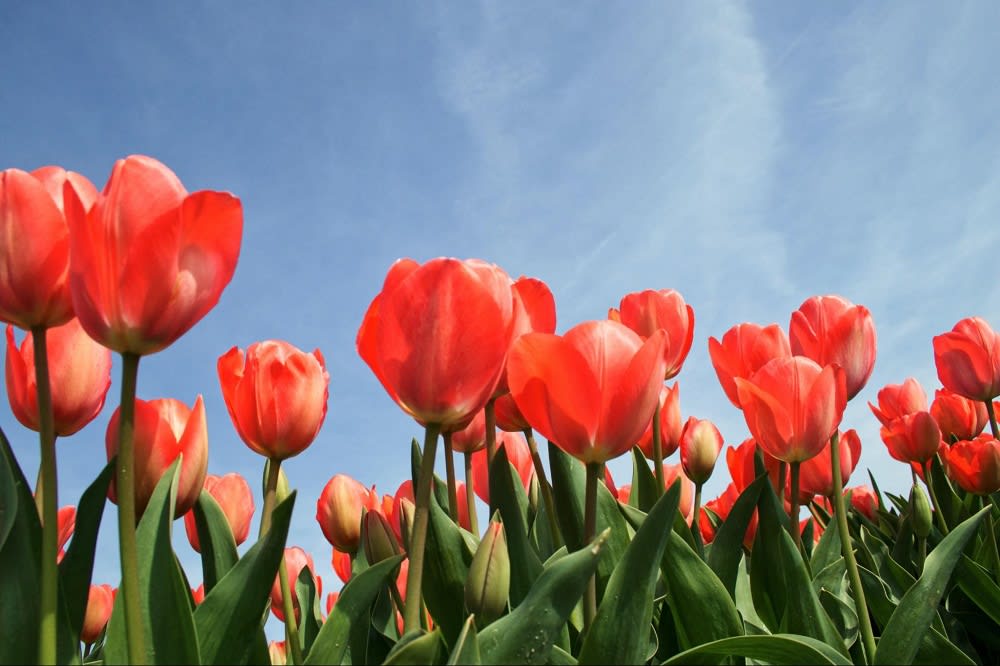 Julian
Take a day trip to the city of Julian to witness this charming mountain town turn "gold" with daffodils. In the spring, these bright, golden blooms can be seen on roadsides, in the historic cemetery, and in every other corner of the community. Along with the daffodils, there are fragrant lilacs dotted through the hills and orchards, with varying lavender hues. Keep your eyes open to spot lily-of-the-valley, peonies, and many other spring varieties that bloom naturally in this quaint Southern California town. The late spring and summer is a good time to glimpse apple and pear trees in blossom.


Cuyamaca Rancho State Park
Cuyamaca Rancho State Park's peak wildflower season typically begins in early spring and ends in autumn. This Southern California park offers more than 100 miles of hiking, biking, and equestrian trails for visitors to explore, all of which are dotted with naturally occurring wildflowers. Stay for the day, or grab your pack and stay overnight in one of the campgrounds.

While exploring the trails, you can view a range of flowers in various colors.
Snow-in-summer, Ball gilia, and Palmer's Lilac are each pure white.
Golden yarrows, slope monkeyflowers, and silver-leaf lotus blooms dot the landscape with distinct yellow hues.
Bright Paintbrush, scarlet bugler, and wine-cup clarkia stand out with unmistakable bright orange colors.
Whimsical checkerblooms, owl's clover, and wild peas are each exquisitely pink
Blue and purple floral varieties include wild flax, wild hyacinth, miniature lupine, chaparral nightshade, Chinese houses, and grape-soda lupine.


Laguna Mountain Recreation Area
A mere 40 minutes from downtown San Diego is the Laguna Mountain Recreation Area. Laguna Mountain's terrain transitions from a desert landscape to a mountain top conifer forest. This Southern California recreation area is home to the Big Laguna Mountain Meadows, where wildflowers grow abundantly in April and May on the Big Laguna Trail. Spot these florets when strolling past the scenic Big Laguna Lake.

If you're looking for a place in La Jolla to put down roots, contact Bryan Garrity—a trusted local expert specializing in luxury real estate. Bryan's team of well-reviewed professionals will be happy to help you find the luxury La Jolla home of your dreams.