You don't have to go far in La Jolla to indulge in relaxation or excitement. Taking a few days off work is a great way to refocus and take on much-needed self-care—but this doesn't mean you need to leave town.

La Jolla is a charming coastal community that anyone would be lucky to vacation in. Beautiful beaches, museums, art galleries, and a range of outdoor activities make it the perfect place for locals or tourists. Below is your itinerary for a perfect La Jolla staycation.


1. La Jolla Underwater Park
Explore what lies beneath the Pacific Ocean at the San Diego - La Jolla Underwater Park. This protected, 6,000-acre aquatic area is teeming with majestic marine life. Scuba diving, snorkeling, swimming, and kayaking are popular pastimes in this aquatic preserve. The park comprises La Jolla Cove, La Jolla Shores, and the Ecological Reserve and Marine Life Refuge, ensuring that the sea creatures and seashore remain pristine.

La Jolla Cove is a small beach boasting gentle waves and crystal-clear water, making it ideal for an underwater photoshoot of rock reefs and schooling fish. Below the surface, you can spot sheep crabs, kelp crabs, massive kelpfish, leopard sharks, and horn sharks, with the occasional bat ray or harbor seal sighting. La Jolla cove features rocky cliffs that block big swells from crashing upon visitors, making it a prime spot to swim in gentle waves.


2. Explore La Jolla Caves Beach
Nestled between La Jolla Cove and La Jolla Shores lies La Jolla Caves Beach. The caves emerged after 75 million years of relentless waves pounding the sandstone at the base of the 200' bluffs. Pirates once used the seven caves to smuggle humans, whiskey, and money during California's violent past. This rocky sliver of coastline attracts tourists and locals alike to explore its unique sea caves and search for treasure.


Credit: Go Visit San Diego

Clam cave is named for its double-sided entrance and is the only cave visible from land. Stop here to catch a glimpse of sea lions soaking up the sun or splashing in the waves. Shopping Cart Cave is a great spot to view spiny lobsters and other ocean floor creatures.

Sunny Jim Cave is the largest of the seven caves and is accessible via a tunnel created by Professor Gustav Sluz and two workers. After two years of tirelessly digging, the trio emerged above the cliffs and began charging visitors an entrance fee. The cave is accessible today via the Cave Store, and there remains a small fee.

Arch Cave is 680 feet deep and named for the one remaining arch, while the other was destroyed by a tidal wave. This cave is rather narrow and attracts thrill-seekers of all kinds. It can be dangerous and must be approached with caution.

Sea Surprise Cave looks like an unimpressive tiny opening in the rocks but opens into a cavern with nearly 80 feet of walkable passages. A unique feature of this cave is its orange walls, resulting from calcite-coated sea anemones that live in deep pools within the cave.

White Lady Cave earned its name from a tragic incident. A young newlywed woman on her honeymoon was collecting seashells and roamed into the cave—only to be swept out to sea by a strong incoming tide. Although the shape of the cave opening has changed over the years, the entrance looked like a woman in a gown when it was named.

Little Sister cave is the smallest of the seven and resides next to its big sister, White Lady.


3. Hike La Jolla Heights Open Space
Go where the locals go by hiking one of La Jolla's hidden hiking spots. Also known as La Jolla Natural Park, La Jolla Heights Open Space is a quaint 42-acre preserve comprising vital biological habitats. Tucked away in the preserve is a hidden trail that follows the coastline and leads to breathtaking panoramic views of downtown San Diego, the Pacific Ocean, and Mexico. Epic vistas aren't the only sight worth seeing here: you'll likely see gray foxes, lizards, gopher snakes, and brush rabbits hopping around if you visit closer to sunset.

The trail begins at the top of Al Bahr Drive. Once you've passed through tall reeds, the hike opens up to an extensive desert hillside blanketed in chaparral. The many clearings up the hill provide fantastic photo opportunities that get better the higher you trek. The hike is a little over 1.3 miles and takes roughly an hour, given you stop to take some pictures and admire the view. Don't forget to bring sunglasses, sunscreen, and water (as the trail has minimal shade.)


4. Soar above Torrey Pines Gliderport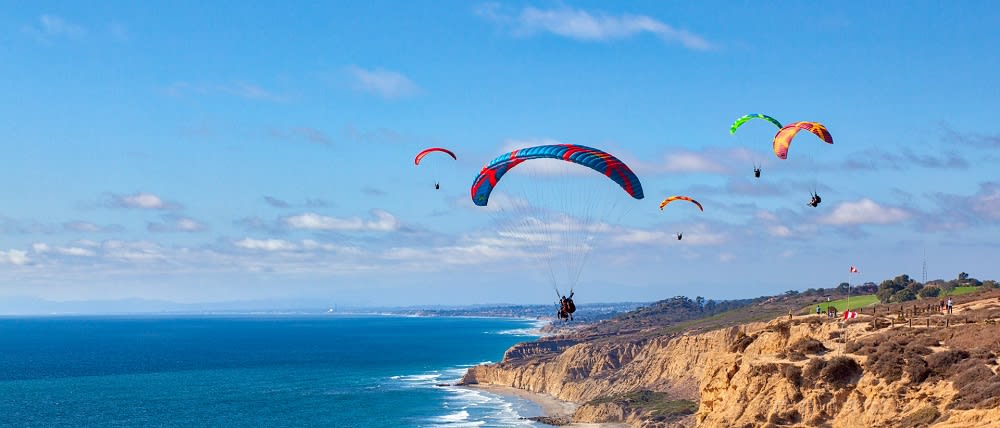 Credit: Torrey Pines Gliderport

Experience a true adrenaline rush by taking some hang-gliding lessons at Torrey Pines Gliderport. The Gliderport is among the most historic aviation sites in North America and is Socal's premier location for hang-gliding, paragliding, remote-control models, and sailplanes. You can take flying lessons, get certifications, partake in tandem flights, and get professional repairs on your gear.

People of all ages can fly tandem with one of Gliderport's expert instructors. According to Torrey Pines Gliderport, paragliding is the least expensive and most convenient form of aviation. These courses will help you become a safe and competent paraglider and are tons of fun. If you have an appetite for adventure and want to see La Jolla from up above during your staycation, call Torrey Pines Gliderport and make a reservation.


5. View art galleries on Prospect Street
Prospect Street is a beloved part of La Jolla, offering delicious eateries, trendy boutiques, and hip art galleries. Stop by a few of the many art galleries for an enjoyable, free pastime on your staycation. Notable galleries in La Jolla include:
The Contemporary Fine Arts Gallery, showcasing the work of John Burrows, Alison Haley Paul, Wade Harb, and more. This gallery houses an eclectic mix of contemporary artworks, including paintings, sculptures, and limited-edition pieces from internationally acclaimed artists. The Contemporary Fine Arts Group provides unrivaled services in fine arts acquisitions and consulting, custom framing, art installation, corporate collections, and award design.


The Martin Lawrence Galleries has featured original paintings, sculptures, and limited-edition graphics since 1975. Some world-famous artists featured here include Takashi Murakami, Pablo Picasso, Andy Warhol, Rembrandt, and many others. From great names to emerging artists, Martin Lawrence Galleries offer the finest quality artwork while maintaining the highest level of integrity and ethical standards in client services. Here, you can view pieces from some of the biggest names in the art world right in La Jolla.


The La Jolla Gallery has a unique selection of mid-career contemporary artists who work with various mediums. Every artist they have showcased has earned global recognition, with the current list including Laurie Pace, Mike Weber, Don Morris, Gary Kaleda, and Erika Givens, among others. This is one of San Diego's best luxury art galleries, and it prides itself on representing artists that draw from earlier periods to inspire their current artwork.


6. Dine above the waves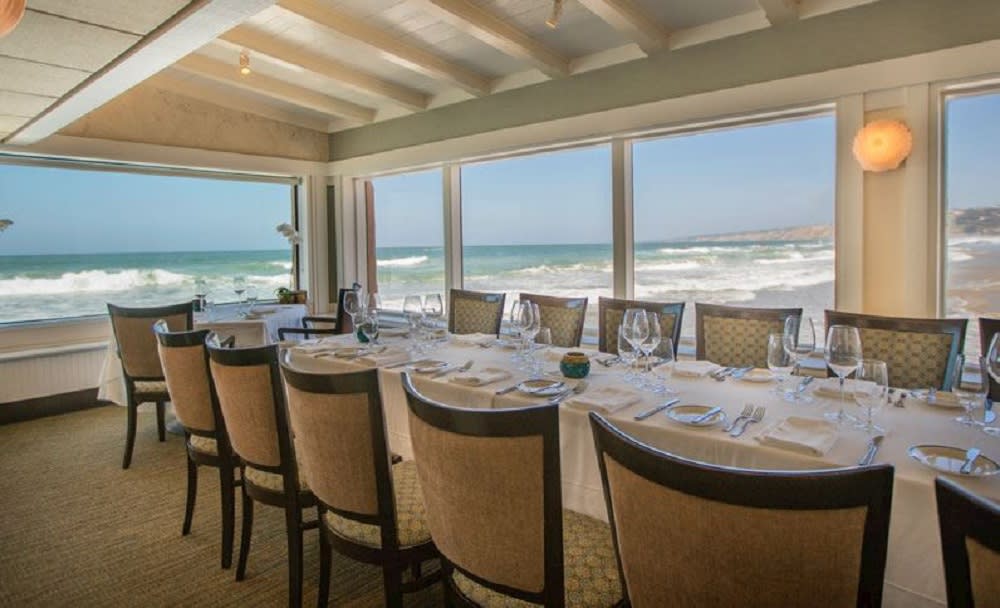 Credit: The Marine Room

Dinner with an ocean view is nice, but if you're a La Jolla local, the chances are that's nothing new for you. Take your waterfront dining experience to the next level with dinner at The Marine Room. This fine dining establishment seems to float above the Pacific, offering guests High Tide Dinners with sweeping ocean and sunset views.

The menu features exceptional coastal fare, with appetizers including wild-caught shrimp cocktail and signature Maine lobster bisque, prepared with salpicon, enoki, and pistachio financier. For the main course, opt for the togarashi sesame-crusted ahi tuna or the restaurant's lavish signature center-cut filet and marine lobster tail.

If you're looking for a posh place to call home in La Jolla—or hoping to sell and upgrade your existing home—contact Bryan Garrity. Bryan is a trusted local expert specializing in luxury real estate, and his team of well-reviewed professionals will be happy to help you find the luxury La Jolla home of your dreams.